Pretend like you're coming over to my house, we've enjoyed visiting, and you're about to (recluctantly) leave. This is what you'll see on your way out!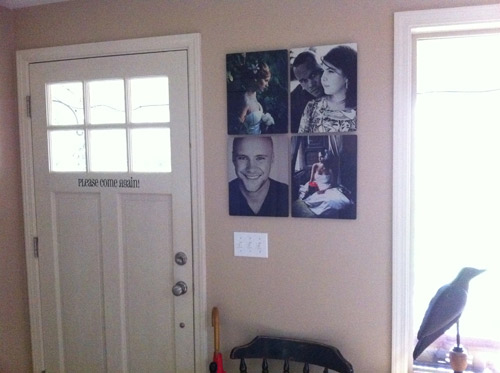 A message saying, "Please Come Again!" and four of my favorite images printed on metal and hung together. They're gorgeous in person, having a metal sheen that makes them POP! Plus they have dimension standing out from the wall, not pressed up against it.
Here's looking into our teensie tinesie (how do you like my phoenetic spelling?) hall bathroom. Custom gallery wrapped canvas wall art (say THAT five times fast!) that's perfectly safe in humid spaces.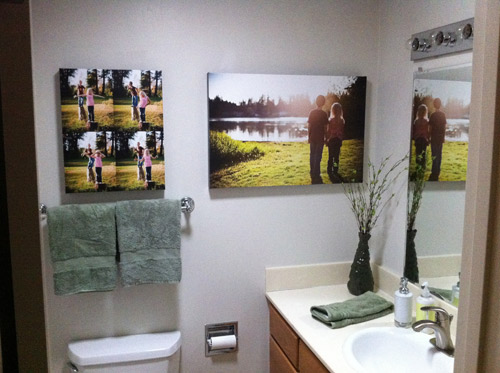 These photos were taken a couple years ago at a nearby park. I was trying out lenses to see which one I might like to get next (the Canon 50mm 1.2f L lens, thankyouverymuch, birthday is coming up). The kidlets weren't dressed for a photo shoot or coordinated for permanent wall art, but I used them as test subjects.
The piece on the left is four images of them making different poses every time I pressed the shutter button. The piece on the right is of them holding hands (not sure they'd be as willing to do that anymore, so I'm glad I captured their sweetness when they would let me). It's actually not a technically sound image. My highlights are blown out, my shadows are too dark, and I'm not sure that anything is in focus.
BUT I LOVE THE IMAGE. I LOVE THE MOMENT. I LOVE WHAT I GOT EVEN THOUGH IT WON'T PASS A CRITIQUE, BUT…
"How does it make you FEEL?"
– Joe Buissink
Images of my kids make me feel extremely happy. That is why they hang on my wall. Not because they're award winning.
The metals, on the other hand, are ROCKIN' technically sound images :) Here's a closer look (including the reflection of the dining room chandelier on Lisa and Eli's faces, woops) of them before hanging.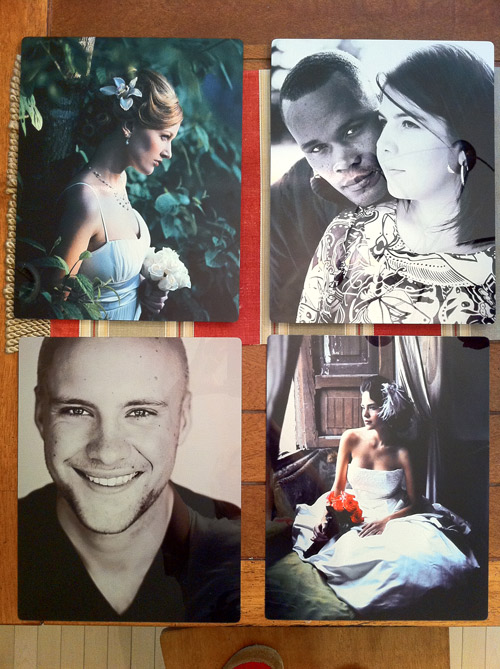 …and a little snipet of my slipper :D
Here's another way to get dimension with our unframed canvas painting. It's stapled to the wall (where the creases/folds are) and stuck on the right side with painters tape. It reminds me a bit of my grandma, Lucille, who's been gone for a long time.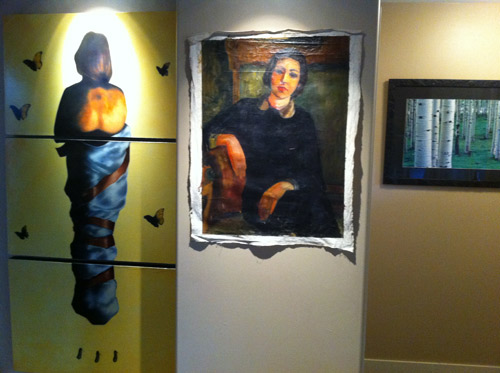 The art on the left is by Adde duLaux Russell. It's three separate canvases, making packing/moving a breeze. We met her in Seattle after seeing her one-winged angel silhouette painting (that's not hanging in our house, unfortunately, it's on a wall in a Sun Valley home instead). We've had it about nine years now, and every year we swap Christmas cards… how sweet is THAT?!?
The photograph on the right is of aspen trees in American Fork Canyon, UT, by Russell Gunther. His brother and I traded it for a quilt. I had already committed to making a baby blanket for their 5th baby, so he said (after trying to gift it to me and I wouldn't take it for free), "I'll trade you this for a quilt," thinking that meant the baby blanket. But I talked to his wife about making a simple adult-sized one for him for fun, in addition to the baby blanket, and she agreed that it'd be funny.
Well, after trying to find the perfect fabric (I was seriously just going to get two pieces of fabric and sew them together, super easy) and coming up empty, I switched gears on accident and decided to try a design I've NEVER even come CLOSE to doing (nor had I ever made anything bigger than a baby blanket). This is what my 2 piece blanket turned into…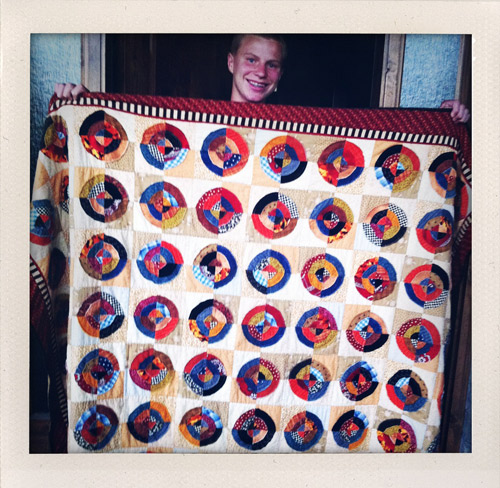 …well over 400 pieces in a Bullseye Design, cut in four's and reconstructed. P.S. That's not him, that's his son holding it for me the last time I was in town so I could get picture proof that 1) yes, I did make it, and 2) yes, they actually use it.
We have more art hanging in our home, so maybe I'll have to post another tour to show you the rest. By the way, all these photos were taken with my cell phone. You'd think I'd use my real camera, but no.
{ Comments on this entry are closed }