You may not be as excited as I am, but Trader Joe's is finally coming to Utah (634 East 400 South, Salt Lake City) by the end of this year and I don't know what I'm going to do with myself during the wait.
For those of us living in Utah, the nearest Trader Joe's is in Las Vegas. That's a SIX HOUR DRIVE (although many would argue that Candy Cane Jo-Jo's are worth it) to the Sin City store.
Oh? You aren't familiar with TJ's? (That's what the fans call them… funny story about fans and nicknames at the end of this post; however, it has nothing to do with Trader Joe's.) How about my Favorite Five items to pique your interest? Here they are, in no particular order: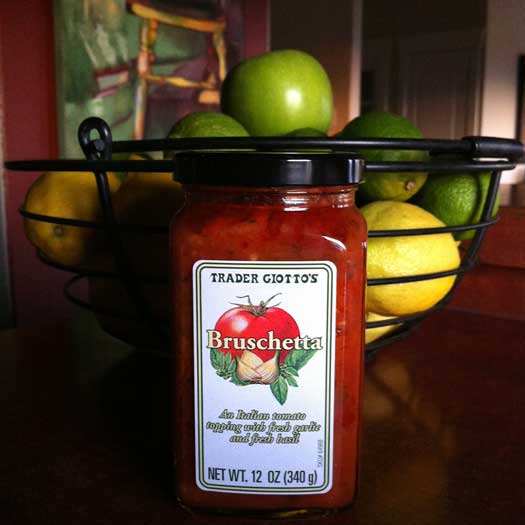 Trader Joe's Bruschetta (or the Italian version, Trader Giotto's, haha) spooned out of the jar, slathered on some thick bread (like a Pugliese, which I get from Costco in a two-pack). Or kick it up a notch by heating in the oven in a shallow, oven-safe dish with a dollop or two of goat cheese (THAT idea I got from our Carrabba's Restaurant in Orem, the Scotty Thompson appetizer of marinara and goat cheese with toastettes; it's an off-menu item if you're looking for it in print). Perfect to have on hand for a quick snack or appetizer for unexpected guests. Tomatoes, garlic, and basil… I could live off that medley.
Trader Joe's Triple Ginger Snaps are small enough to eat a few without guilt, but pack enough punch that you feel satisfied without eating 1/2 the container. You'd THINK you would want to, but the fresh, crystallized, and ground ginger bits satiate your sweet & savory tooth.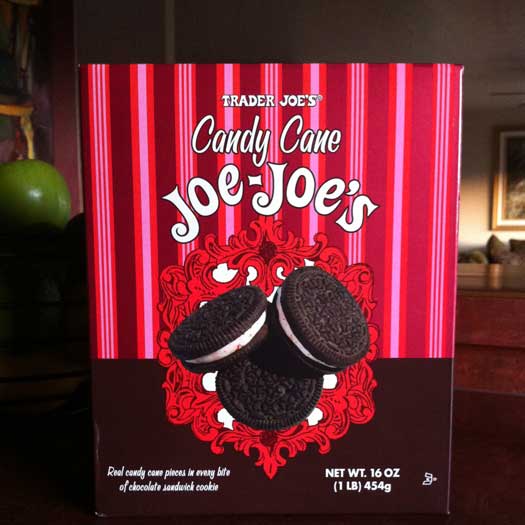 Now. The Trader Joe's Candy Cane Joe-Joe's only come out during the Christmas season, which is the reason I have a stash of these in the top of my pantry throughout the rest of the year when they're unavailable. The TSA at Sea-Tac airport looked at me funny when they zipped open my backpack to find six boxes neatly puzzled into place. I'm even known to have given a box to our UPS man after publicly declaring online that "if the UPS man gets here with my package in the next five minutes, I'll give him one of my precious boxes of peppermint Joe-Joe's." He was there in the next two minutes and received said box just before I took a photo of him with his loot to prove that I'm a girl of my word. That's how I roll.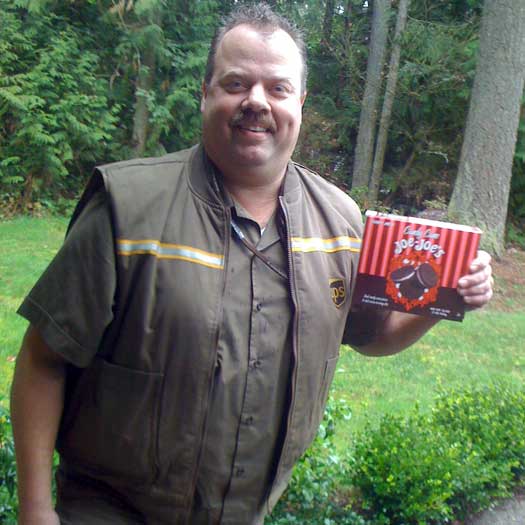 A box for a box… seems a fair trade. You wish you were my UPS delivery guy, huh?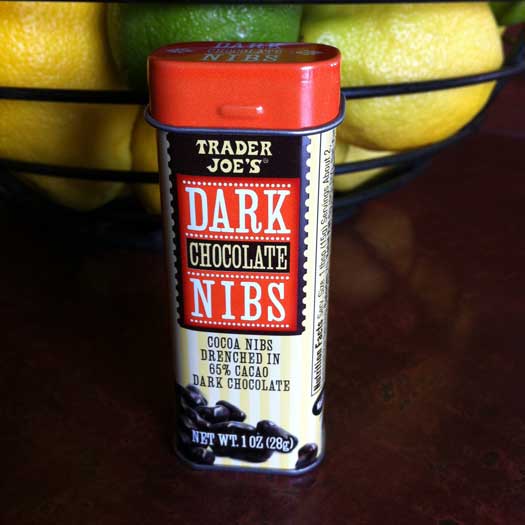 For my ladies in the house who dig themselves a chocolate fix, this little palm-size tin of Trader Joe's Dark Chocolate Nibs fits almost anywhere. Although, I cannot guarantee they won't melt if you stick them in your bra or under your arm, at least they'd be close in case of an emergency. They have a slight crunch, have a  dark chocolate loveliness, and make my mouth happy. Maybe they'll make your mouth happy, too!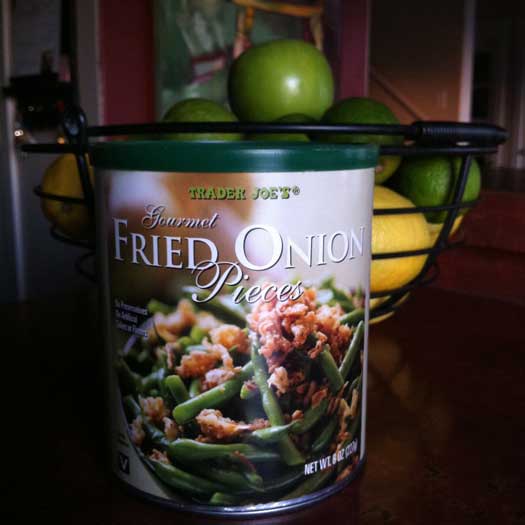 This one isn't an every day item, but sprinkle these Trader Joe's Gourmet Fried Onion Pieces on your food and turns something boring into instantly fancy.
THE FUNNY STORY: So we're at Dixie's BBQ in Seattle in line to order (and, yes, I've met The Man; yikes). LJ was SERIOUS about ordering, so you better know what you want before it's your turn or you might get yelled at and/or thrown to the back of the line (Soup Nazi-style). Wanting to help my friend order smoothly, I asked her what she was getting that day. "The 520 Special," she said. "Oh, instead of saying the whole thing, you just say 'Special' like a regular," I insisted. "You SURE?" "Of course!" So she tells LJ she'd like the Special. LJ barks back at her, "WHICH special? There are two." O_O (In case you're new here, those capital O's with the underscore is supposed to be a look of shock.) Yeah, there's the 520 Special and the Dixie Special and I'm an idiot that got my friend sent to the back of the line that day. P.S. If you go in there, my baby daughter's picture is still on the wall from eight years ago (she's wearing a pink sweater, Gene is holding her and written in black Sharpie it says, "Yeah, baby!")
{ Comments on this entry are closed }