My husband suggested we take the kids down to Las Vegas.
Images of drive-by boobies and booties (stripper ads on top of the taxi cabs); inappropro text on t-shirts, g-strings, and shot glasses; and the creepy sidewalk card clickers flashed through my head.
He insisted there's plenty kid-friendly activities in Las Vegas, we just have to look for them. After scouring endless Google suggestions, we settled on the seven following activities (Get it? Seven is a lucky number!):
[something's wonky with the picture captions, forgive me]
1. Circus Circus for one night because it was supah cheap (I want to say $25/night). But, folks, you get what you pay for; it was gross and I don't recommend it (unless, of course, you like gross). Parking is confusing and getting around the place isn't easy. Checking in with an English-is-my-second-language clerk was frustrating, even though he was very nice (as far as we could understand; maybe he wasn't but we couldn't tell). We waited 20 minutes in the stinky hall for a replacement room on a different floor that had chunks of drywall missing from the walls AFTER we were sent to a dirty room. The beds weren't comfy and the walls are thin. The arcade where kids can play carnival games wasn't like I remember as a kid. There are random, fun performers throughout the carnival area, and even less people to multi-player against. I so hoped it would be memorable for my kids like it was for me (it was, just not for the same reasons.)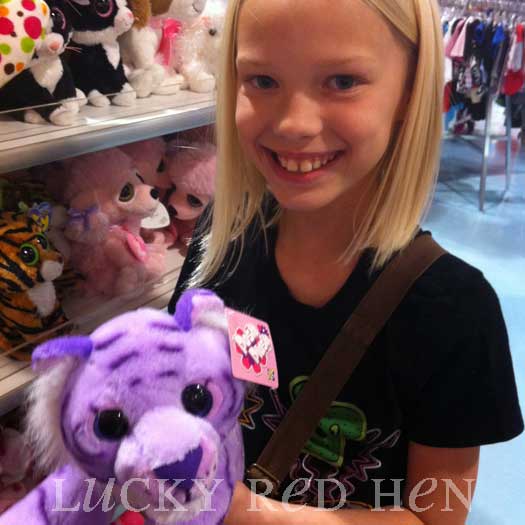 She spied a stuffed animal her sweet friend has and asked me to send a picture to her. (We miss you, Lily!)
2. Shark Reef Aquarium at Mandalay Bay $18 adult, $12 kids. Look for the round entrance that's not near the main hotel & casino entrance (it's to the left around the corner next to a giant parking lot). You may think it's weird that I'm explaining where the entrance is, but we drove 'round and 'round looking. The one cool thing about asking an old security guard was his accent. I swear he used to be a huge mob boss and is using the mall-cop job as a cover up. He was adorable (so maybe drive around a bit and maybe you will run into him and enjoy listening to him give you directions.) It's smaller than you think it'd be, but well done. You get to cruise through a tube surrounded by swimming creatures, mostly sharks. We liked the gift shop where the kids selected a reasonably priced stuffed animal skin and got to watch them stuff it.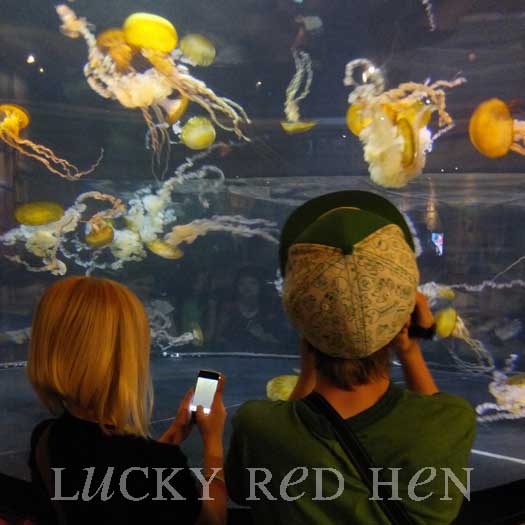 The kids had their own camera devices and had a blast taking pictures of all the cool stuff they saw.
3. The Bellagio (super expensive hotel and casino) has several free things to see. The outdoor fountains, visible as you drive by, erupt to music and lights every 1/2 hour or 15 minutes depending on the day/time (I've added a video at the end of this post so you can see a snippet for yourself). Inside the main entrance above the lobby is the colorful ceiling of blown glass by Dale Chihuly (shout out to the fellow Seattleite, WOOT) and  just beyond that space is the Conservatory and Botanical Gardens that changes theme with the seasons (by one hundred and forty (!) expert horticulturists). Down the hall to the left is a chocolate fountain wall at Cafe Gelato where they serve delicious frozen treats (and crepes, meh). We like to take our treats down past the water wall at Sensi (exquisite dining, but not too stuffy) where there are small seating spots.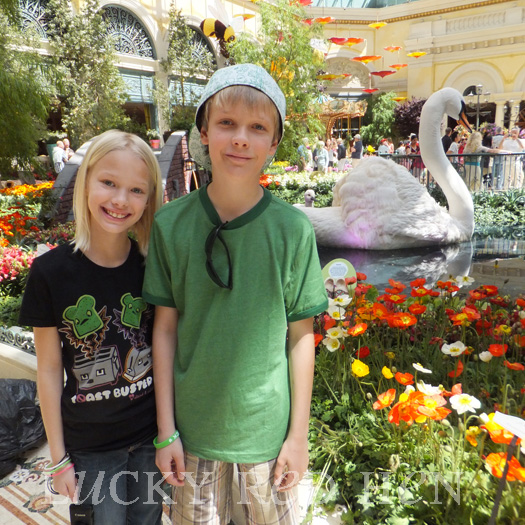 Inside the Bellagio Botanical Garden Exhibit and the GIANT SWAN!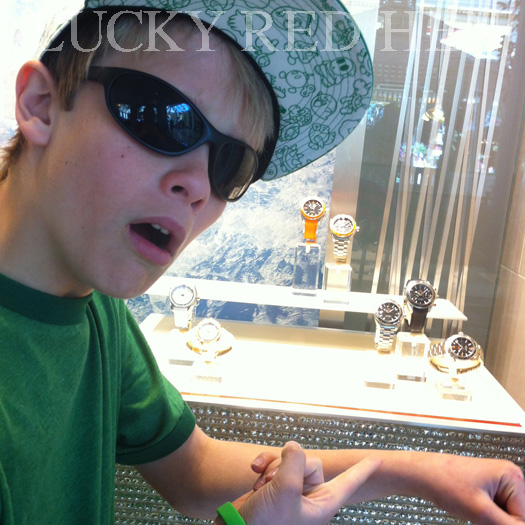 He saw the orange watch in the window and wanted to know how much it is (the kids had spending money). So I kindly asked a salesperson if she'd tell him about the watch and how much it costs. It was a wee bit out of his price range. You should take a guess and leave it in the comment section :) I'll send something to the person who gets closest without going over.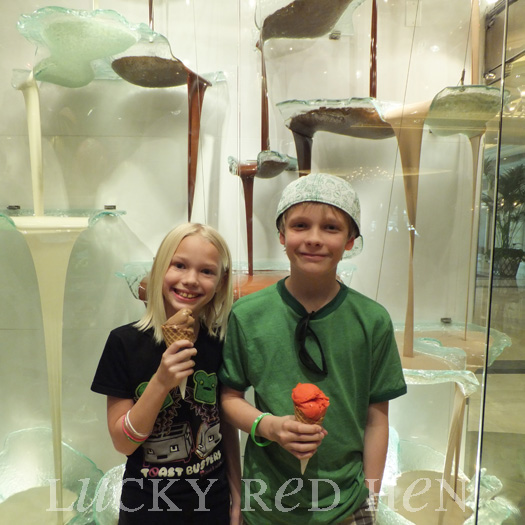 The chocolate fountain down the hall from the Botanical Garden exhibit.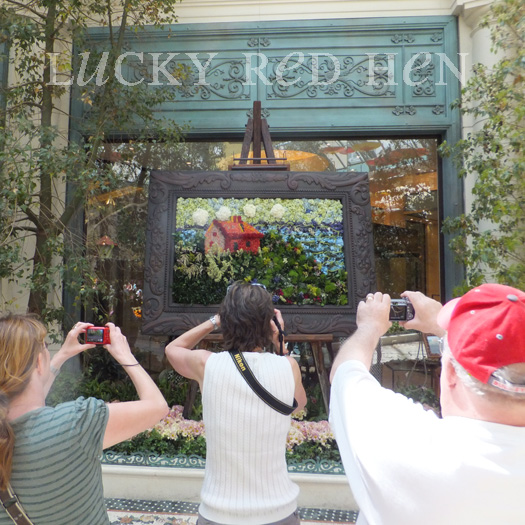 This work of art is made up of live flowers and plants (much more amazing in person, I love all the picture taking.)
4. The Blue Man Group was highly entertaining (and family friendly) for our kids. Next time I'd like to see one of the Cirque du Soleil shows (check out the O preview here). If you know a local Las Vegasite that is willing to pre-purchase your tickets for you, you'll save about 1/2 price (thanks, CB!)
5. The Aliante Station Hotel is waaay off the strip (NW Las Vegas) and totally worth the drive and the extra room rate. It was as if we had the place to ourselves, the pool was deserted (and clean), and the accommodations were top notch. The buffet is VERY nicely done and reasonably priced for breakfast, or sign up for their Player's Club (it's free) and you get two breakfasts free each day (I think; don't quote me on that, so check first). They have other specials that make it worth the few minute extra drive and getting off The Strip calmed my overprotective motherly nerves ;)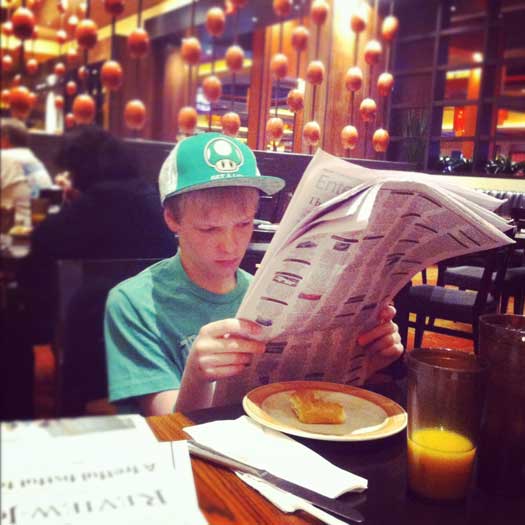 Breakfast buffet at the Aliante Station Hotel is delicious, nicely decorated, staffed with friendly servers, and includes reading material for you to stay current on world events.
6. Have wonderful friends to visit, play in their pool, enjoy a meal together, and lounge in their back yard oasis while your kids entertain each other. Alright, maybe you can't fulfill this one. Maybe you should MAKE a friend who lives in Las Vegas so you can :D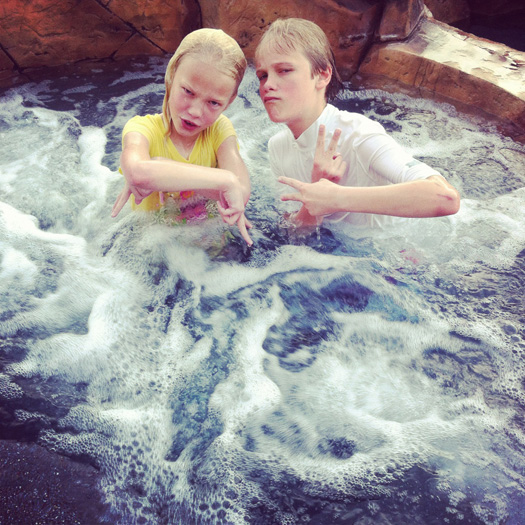 7. And the piece de resistance… El Dorado Canyon Tours at the historic Techatticup Gold Mine that's 45 minutes outside of Vegas. You must call ahead to reserve a spot for the one-hour tour: 4 person minimum (can be combined with other groups/people), adults $12.50, kids <12 $7.50, open seven days a week. Other than the Blue Man Group, which was pretty amazing for kids, this was the favorite activity. Billy, our tour guide, is well-informed on the folklore and history of the mine (and his mustache is for reals, not a fad). Several movies were filmed in the area, leaving parts of the set (like a half-crashed plane) on site for photo ops! As a side note: use the restroom inside the main building for several laughs (and see if you catch the typo).
[This activity was so awesome that I'm saving photos for a separate post dedicated to the mine COMING SOON!]
The trip was complete with a chance encounter with Spongebob Squarepants (in a smokey casino, of course.)
AN EXTRA TIP: If you're driving to Las Vegas via I-15 southbound (out of the Salt Lake City area), swing into Sonny Boy's Barbecue in Cedar City for my favorite (I just salivated thinking about it)… Fried Cauliflower. Their BBQ is delicious, too, but the cauliflower… OH BOY!
P.S. Don't forget to leave your guess of how much the orange watch costs!
And the Bellagio fountain video…