(LOTS of iPhone photos in this long-winded post about my trip to San Antonio, TX)
This is me with my friend Emily at The Alamo in San Antonio, Texas. Wanna know how we met?… (say it with a redneck accent) on the innernet. Twitter, specifically.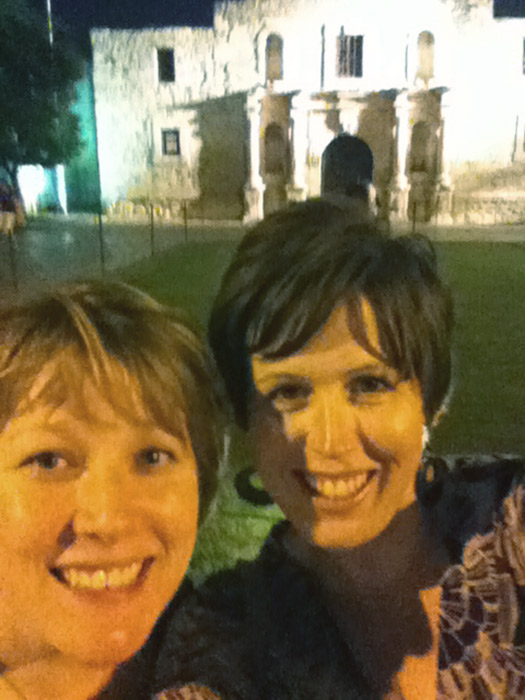 What?!? YOU don't meet people in person you know from the internet? O_o
As much as you may find it weird that I do, I may find it weird that you don't :D
She and I follow some of the same people on Twitter. We both replied to those same people's tweets and saw each others replies. We found each other to be hilarious, so we started following each other. I whined about my ugly blog and she's The Blog Fairy. BUT (that's a BIG BUT that'swhatshesaid) she was on hiatus and had a long waiting list. I whined some more and made her laugh even more until I forced her out of hiding and conned her into helping me (and by "helping" I mean doing it for me) by sending her a check AND hand making her this…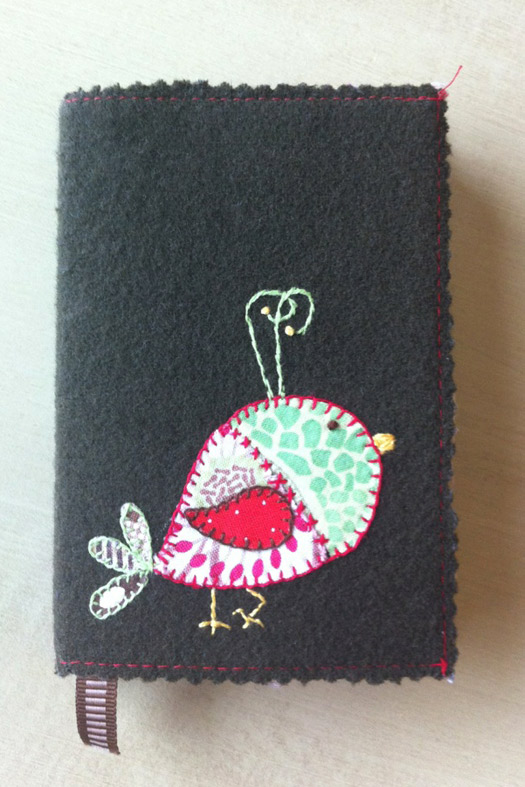 It's an applique'd bird on wool felt that I sewed into a mini book cover. The ribbon out the bottom is an attached bookmark. My MIL (she's SO clever) came up with the idea to make cute tweetie birds on the front after seeing something similar on Etsy (I love that place.) It took ALL DAY (about 8 hours, on and off) to make this one. The most time sucking step was picking the coordinating fabrics. Oy vey!
During the intense blog transformation, Emily and I texted, emailed, and Skyped (she's my first experience at Skyping; we even had a three-way with my host company… and by host company I mean my friend who troubleshoots my hubby's host company business). I met her hubby when he came into the room during a Skype session once and her kids several times as we trudged through the blog designing. It felt as if we were already good friends in a short amount of time.
Wait a minute… what's the parameter to figure out who is or isn't a Good Friend? And why is there a stigma about meeting on the internet? Why does it seem that it's better that people meet in a bar, at college, at a party, at church, or at work than online?
I'm sure there has to be the same ratio of gems vs. non-gems (at first I said losers, but just because you don't pick someone as a gem doesn't mean they're a loser) whether there are 100 people at church, 100 at a bar, 100 at college (small college, haha), 100 at a party, or 100 online.
Anywho… this post is supposed to be about my trip to San Antonio, not a debate on how we meet people (although I will give you a teaser… I invited someone who I met on the internet write up their perspective of our friendship. That will come sometime in May after finals.)
Emily mentioned that their family hasn't had a professional group photo taken since her first/oldest was a baby (she's 9) and now they have three kids and no family photo. So sometime in February I said, fly me down (I hadn't ever been to San Antonio), feed, house, entertain me and I'll take your family photos. Done! We booked the flight for April, before Texas got too hot (it was 95 degrees there my last day).
From the airport we went straight to the famous river walk for dinner (met another friend, a duck, who wanted my fries) then across the street to The Alamo.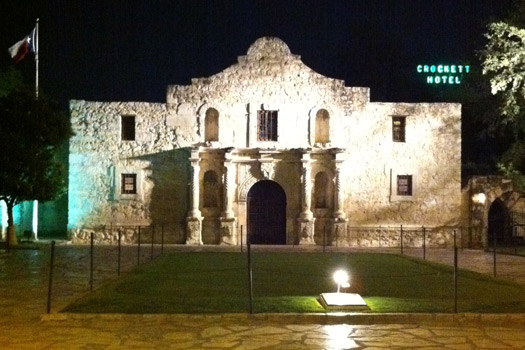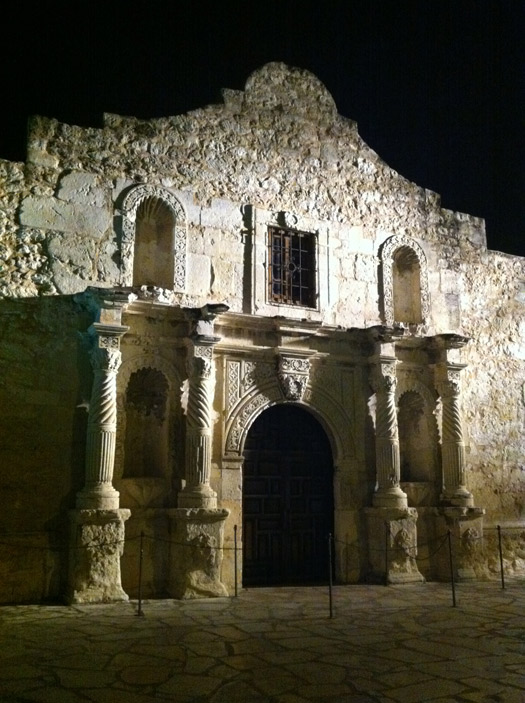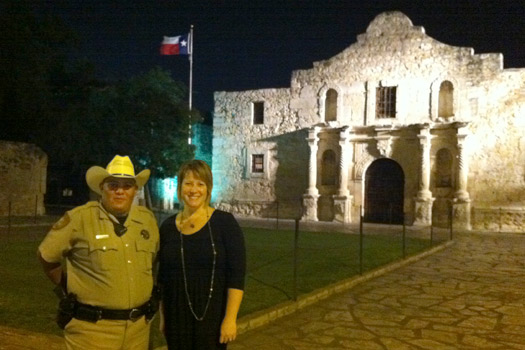 Officer Martinez gave me the 30-minute "gist" of The Alamo and Texas history.
Found this welcome note in my room (a.k.a. the 9 year old's room)…
THEN (that's supposed to be a BIG then) we got to meet up with my visiting-from-Utah @Suedonym, 007, and The Princess for lunch Thursday at the Food Network famous Mi Tierra & Bakery. On Monday we had no idea we would both be in San Antonio at the same time until Sue tweeted something about how she's at The Alamo, can't find her bike, and there's NO BASEMENT. Emily asked me if Sue lives in or is visiting SA, I texted Sue and found out they're there on vacation and lunch plans were in motion! The food was delish and we got to people watch while eating on the patio.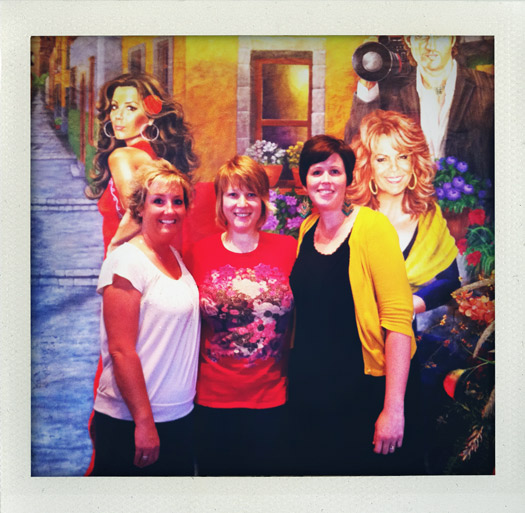 Speaking of people watch… it happened to be Fiesta so there were crowds everywhere, parking nowhere (except in $15 lots), Mexican bands playing (their tubas), and bright colored flowers on everything. Like this entire outfit… (yikes!)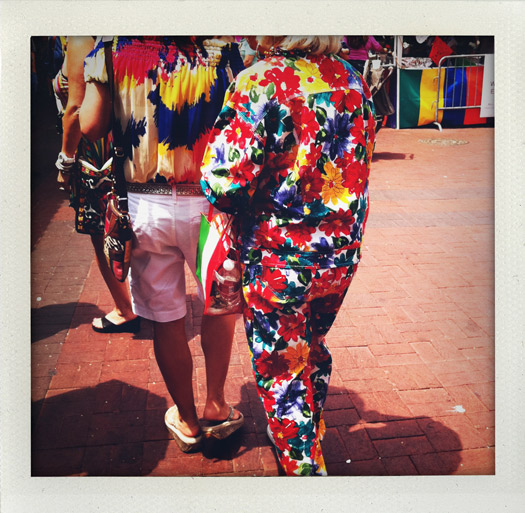 I almost bought two of these shirts for friends, but took a photo instead.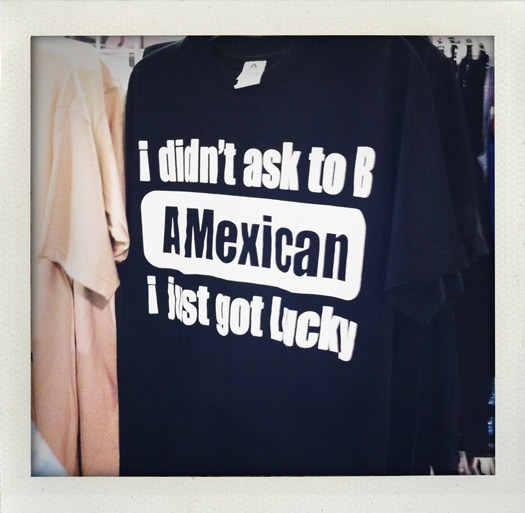 On our way back home from downtown San Antonio, we swung through Gruene, TX to scout out where we'd take the family photos, did some looking through the shops, and had lunch at the Grist Mill (I should've taken pictures of that place, it's incredible and I've seen NOTHING like it; if you're in Gruene, GO THERE).
I'd really REALLY love to own this red glass cake plate from the antique store in Guene, but it cost one hundred and too many dollars. It's. Absolutely. Divine.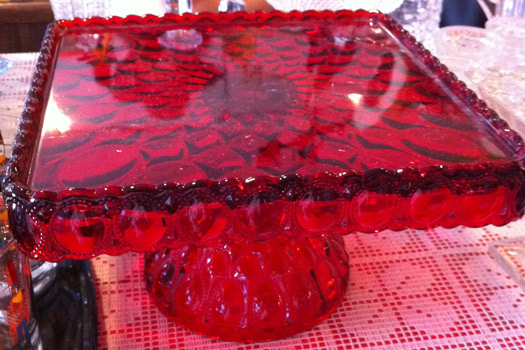 While walking through the shop, a ball-cap-wearing teenage boy stepped out of the way so I could pass. I said, "Thanks." He replied, almost under his breath because he probably says it ALL the time, "Yes, ma'am." And not in an you're-so-old kind of tone, but in a polite and courteous way. I tracked his mom down and told her how he warmed my heart; she thanked me profusely because, she says, he doesn't always show good manners at home. Awe.
Speaking of expensively divine objects of my affection: Under a bunch of other antique silver cigarette cases on the bottom shelf of the cashier jewelry case was this beauty (that could double as a business card holder; or just lay pretty in my hand)…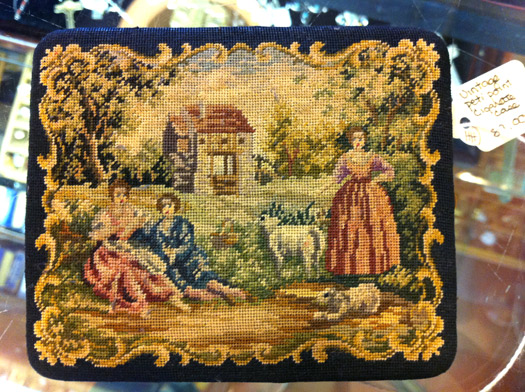 I found it at Uncommon Objects in Austin last Friday, but didn't have $89 to spend on frivolous things. If it's still there, you're welcome to buy it for me (my birthday is coming up, wink wink). No really, I'm serious. I shouldn't crave it, but I do.
Across the street from the store (which holds the object of my desire, *ahem*) is the renowned Cutie Pies (closed for the day). We quenched our after lunch sugar need with a whippersnapper shot (fresh whipped cream shoved into the middle of the cupcake with adequate spillage up top) in our giant baked treats at Hey Cupcake.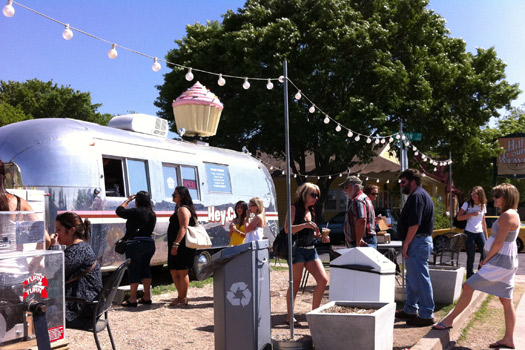 But that was AFTER meeting up for lunch at  with yet ANOTHER Twitter persona who neither of us have met before… @JennieBakesALot!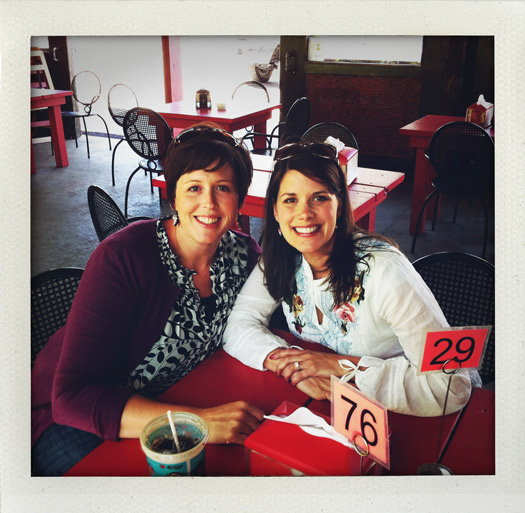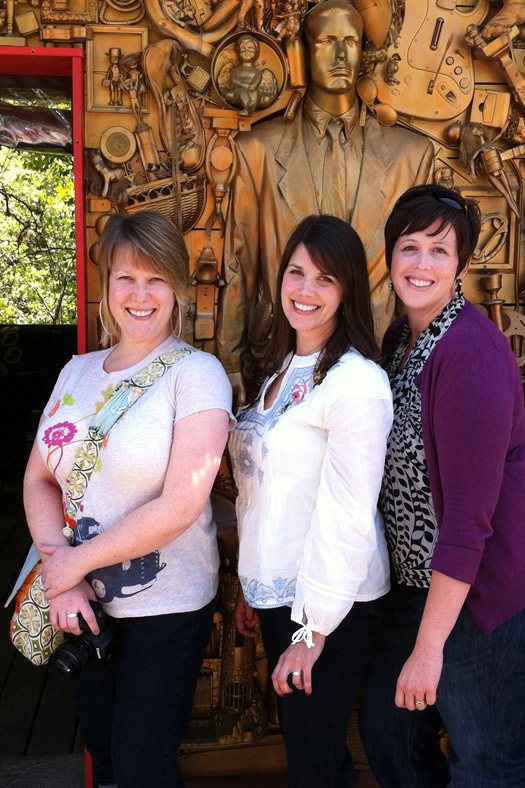 We had fun talking Twitter, blogging, mom stuff, and food. We met at Torchy's Tacos and took some pictures in front of the little logo guy and the golden wall of oddities.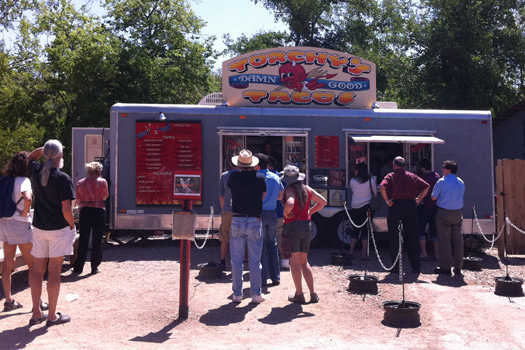 On our way back to the house, The Hotlight was on. Do you know what The Hotlight is? It's the devil's beacon and I hate that I now love it. I have, since that day, dreamed of it at night more than once. I didn't really know it before this day. I mean, I knew OF it, but haven't experienced it for myself. When The Hotlight is ON, you get a FREE, hot off the press, classic glazed donut
THAT MELTS IN YOUR MOUTH, PEOPLE!!!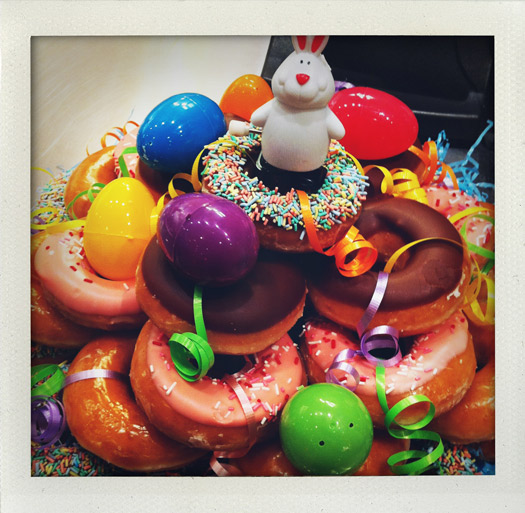 Please. If you've never tried it, DON'T. Trust me. Unless you want to be a slave to The Hotlight (much like being under a trance, with the undeniable magnetic pull) heed my warning.
Saturday on our way back from taking family photos, we drove to this weird thing (it was a surprise, we were just told we would see something "weird") and boy was it weird! Beautiful to see in person (despite not understanding why it's a ginormous, at least 20 feet, scrap metal deer sculpture in the middle of a housing development).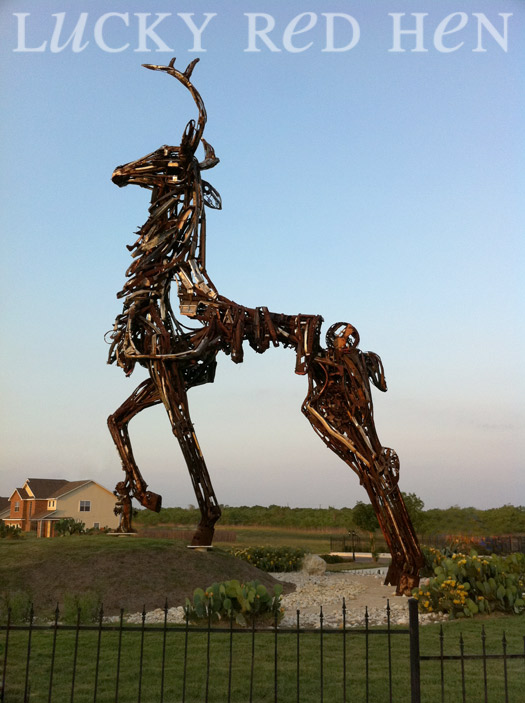 I feel like I've gone on forever and ever (plus there's a zillion photos on this post). Sunday Emily made us delicious waffles, we attended church, had a nap, and enjoyed a yummy roast dinner (I ate too much, again). Before my flight on Monday we attended a birthday brunch, ran some errands, dropped off the oldest at piano, played at the park while we waited for her, and swung by Aspen Leaf for frozen yogurt treats (lemon ginger sorbet topped with coconut and pomegranate berry sherbet with blue and rasp berries).
I was bummed to leave.
But got to drown my sorrows in some Bluebell Ice Cream when my last plane got delayed by a good 45 minutes (making the flight back wickedly annoying… I was SOOO tired getting into Seattle at 2am Texas time).
Oh! Other fun thing… while waiting in Houston for my next flight, I ran into my friend and her husband on their way back home from Mexico! Small world!
P.S. I forgot to tell the "That's a yes" story. I guess it's a common saying in England because the dad (from London) I sat next to on the plane kept saying "That's a yes" when he agreed with what I was saying. Kind of like when we say Uh-huh, yeah or amen, and sometimes twice in a row, "That's a yes, that's a yes." He was really nice. I think I'll try to get the phrase to catch on in The States.