Yesterday's post was about the FUN of opening gifts and today I received a gift! What timing :D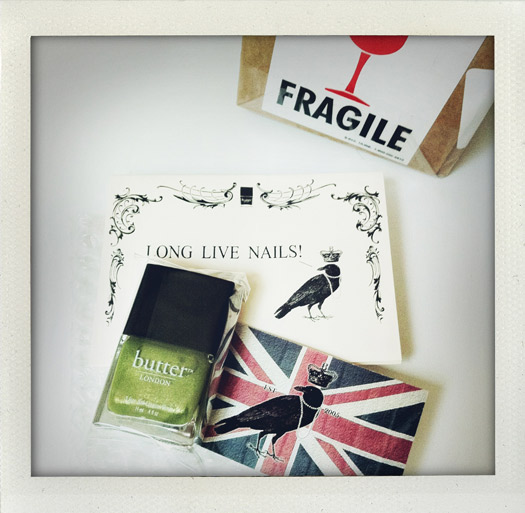 As luck would have it (I love it when luck would have it my way), I won a giveaway on I Can Style U from butter LONDON (non-toxic nail care famous for NOT having formaldehyde, toluene, DBP, or parabens. It came with a hand written note from the Founding Creative Director, Nonie Creme (That's her real last name!?! HOT!)
From their website: "This year her custom lacquer designs will be showcased on the catwalks of Vena Cava, Alexander Wang, Victoria Beckham, Calvin Klein, Betsey Johnson, Yigal Azrouel land Christian Cota."
How COOL is THAT?!? I'll be wearing the same polish as models on the cat walk!
(Can't help but think of the SNL Miley Cyrus…) That's pretty cool!
Check out the names the colors have, like: Aston, Dahling, Frilly Knickers, Minger, and Saucy Jack. This green color I won is called Dosh (my daughter's favorite color right now… she's SO excited).
The next time I fly, I'll make time to visit the butter LONDON salon on Concourse C of the SeaTac Int'l Airport for a pedicure (they also do manicure's and brow waxing)!
Thanks, Christie!!!