The other day, Victor changed his Facebook profile photo to one of him at Wade's Eastside Guns. Within minutes, Mike commented that he'd like to go with him next time. Because of FB's clever cross-post-update-notifying, I saw the thread and invited myself, "I'd go with y'all. I pack my own heat ;)" Within two hours we had made plans to go five days later.
Here we are at our lane (you can have up to three people at each lane, which saves some cashola; first person fee is $15 and the next one to two are $10 each).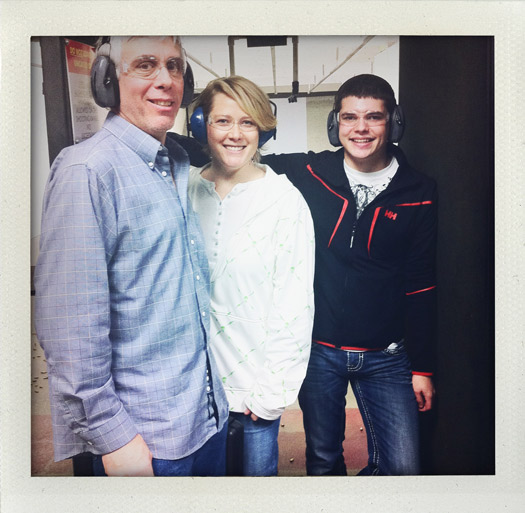 Here's Victor getting some impromptu gun wisdom from a friendly Wade's worker. ALL the staff that night were extremely helpful, knowledgeable, and encouraging.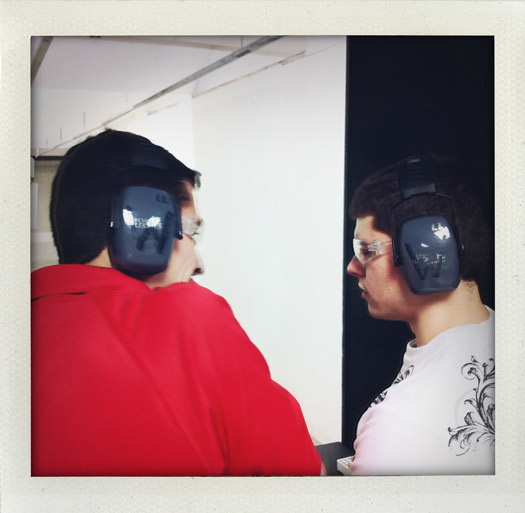 The following two paragraphs in gray are about death (so skip it if you're squeamish or don't want to read it)…
The first time I heard about Wade's was in 1997, right after a new friend was at the range with a girl who was trying a pretty powerful, unfamiliar gun. She had shot one bullet at the target. The gun recoiled up and shot again. That second shot pushed the gun back once more so that it was pointing behind her. Automatic reaction is to pull the gun down to the front, but in doing so her finger put pressure on the trigger and another shot fired and he was behind her, getting shot in the neck. He died before reaching the hospital. As soon as we all heard, shock fell upon us and remained for most of the week as his family came to town, we helped empty his apartment, and funeral arrangements were being made. It was an open casket funeral. At first I didn't want to look (I'd rather his cute face show up in my memory instead of one without his spirit in it), but I guess that curiosity got the best of me because I got in line to pay my condolences see for myself how the mortician managed to mask the wound. They ended up wrapping his neck up with white fabric, making it look like an old-fashioned high collar, Mr. Darcy style. He looked, lovely. Really. As much as you would expect in that condition.
I'm not sure where the girl is now. She moved about a year later and we all lost touch with her. I think of her randomly; more often than him (sad). She's probably felt alone since the accident, so that's probably why it's only when I'm alone that thoughts of her pass through. Hope she's found peace. I know he has.
This is Mike, a.k.a. Bonnie's dad, taking out Zombie Tom…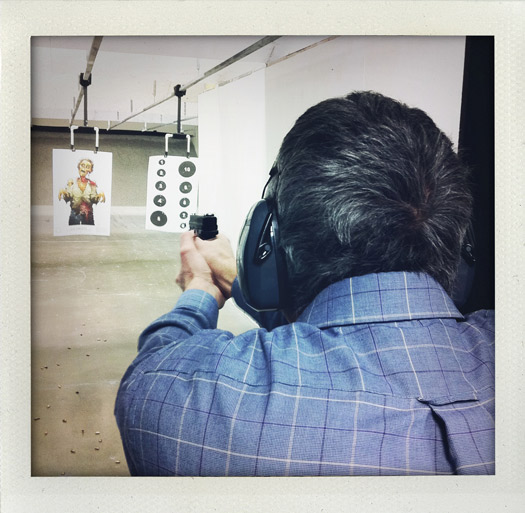 …Victor working on a target with my .38 special (wasn't his favorite)…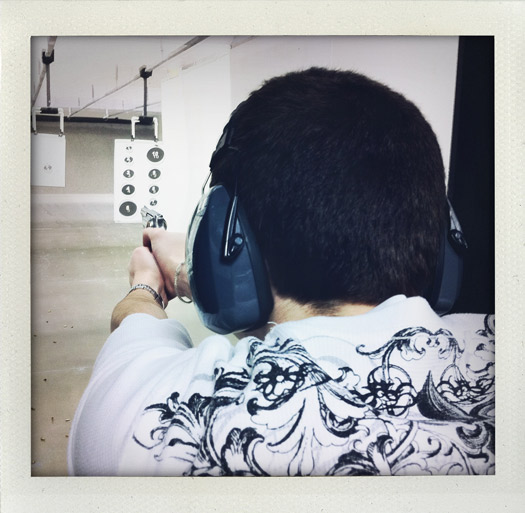 …and me, concentrating on Zombie Tom. Victor bet me a dollar I couldn't get Zombie Tom "downstairs" in one shot. Yeah, I'm a dollar richer ;) See the last picture for proof of my money shot, just under the belt buckle (close enough). Oh, the other thing about this action shot is that one of the staff tried getting me to change my posture EVEN THOUGH I HAD FIRED 3 SWEET ON-THE-BLACK SHOTS (he didn't see them, just noticed my stance) and didn't ask for instruction. But I listened and did what he told me for several rounds before I shook it off and went back to my way (straighter back, not bent forward at the waist like I'm pushing a grocery cart). That's probably good form for others, but it did a number on my back muscles.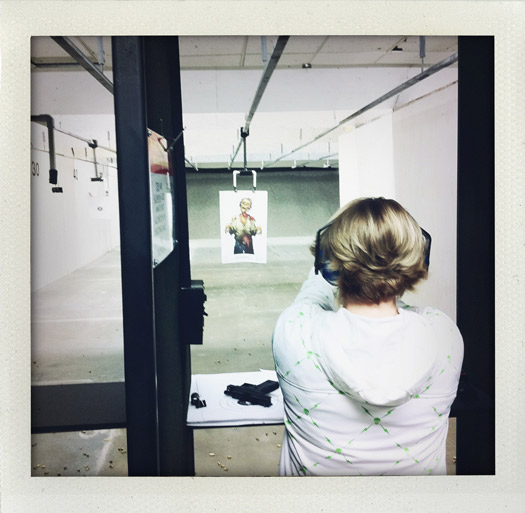 Mike proudly showing off his cluster of four shots. That would blow his head off if we were being attacked by (paper) Zombie's!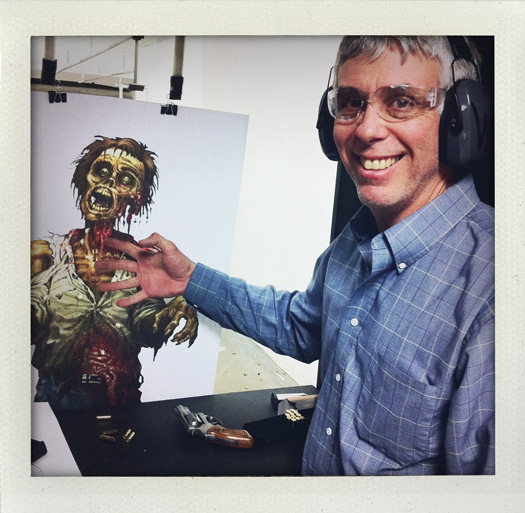 Vic couldn't show you where he hit Zombie Tom with the .38 because I'm not sure that he did, but he was able to get him a couple times with the 9 mil he's holding in the photo.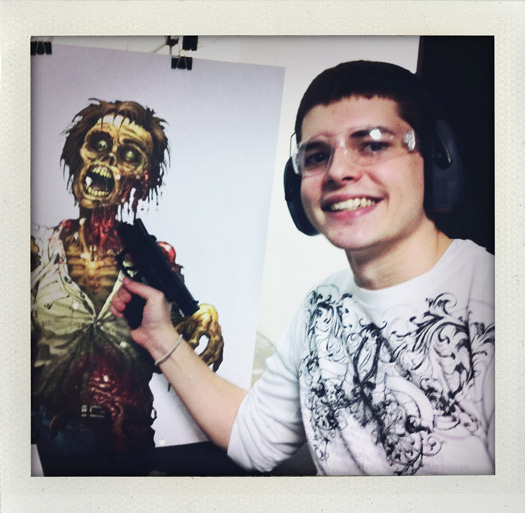 I might've gotten him once with the 9 mil but my .38 worked just fine. It's a gun my dad got for me in my early 20's after I went shooting with him at an outdoor range. My first shot with a .22 hit my metal target and I was hooked. Guess all that practicing at Circus Circus as a child paid off! I'm a master at winning the watergun in the clown mouth to blow up a balloon until it pops game. Too bad the prizes aren't worth paying to play.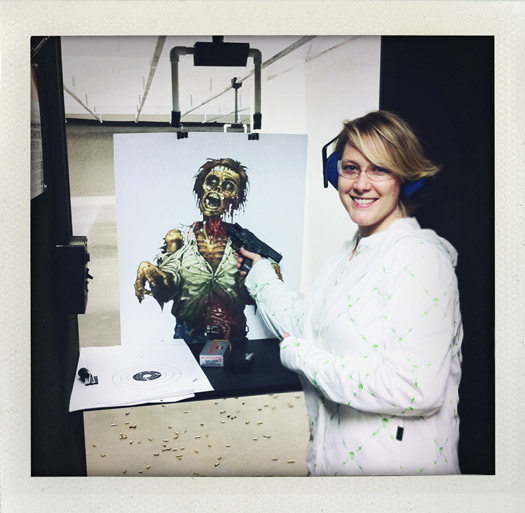 Here's a better close-up of Zombie Tom. Well worth the 2 bucks for him (the other small, bullseye targets are only four for $1). My aluminum bullets aren't allowed on the range, so I had to buy (at a premium price, I'm sure) bullets from them for $19 ish (eye and ear protection is free).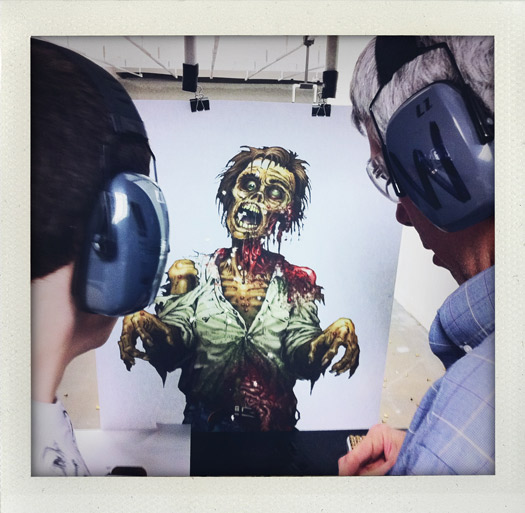 The place was packed on a Friday night. Lots of guys firing LOUD hand guns and some just popping them off as fast as they could pull the trigger. Definitely a building full mostly of testosterone, a few geeks with really good aim and many trying-to-be buff guys showing off to each other. They run a tight ship at Wade's, making sure that people follow the safety rules and help out willingly. I'll be going back… maybe on a Tuesday when it's Ladies Day 1/2 Price ;)
[remember to check yesterday's post to enter the Nie Nie Dialogues 2011 calendar]