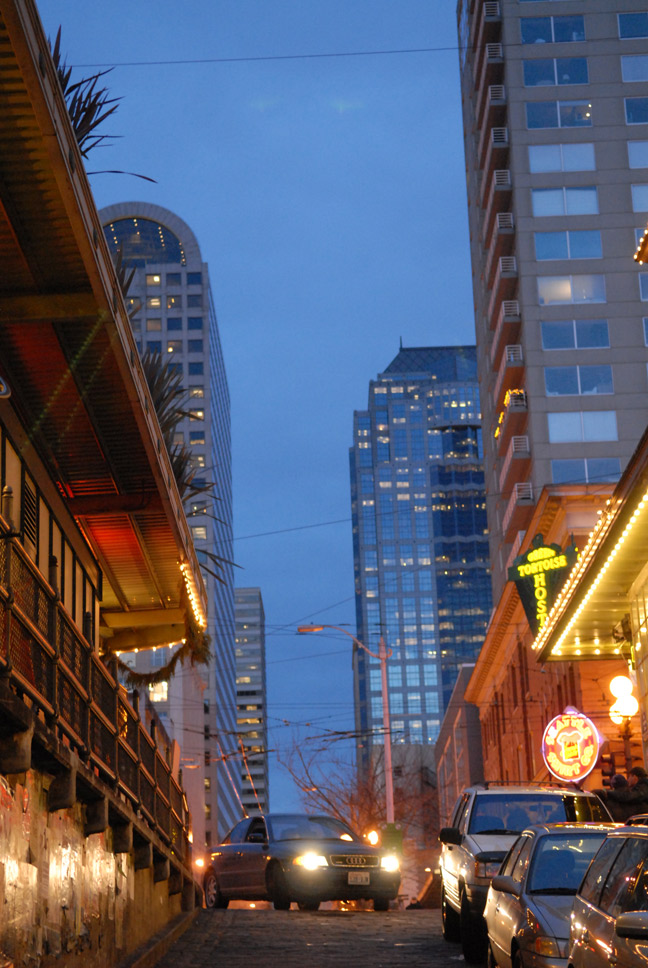 Not really, but I played one yesterday for an out-of-town friend.
We started with a REALLY good Thai dinner at a white house converted restaurant on W 45th just off I-5, Djan's. Their tableware is lovely (hefty silverware) and ambiance cozy. Reminds me of Thai Village in American Fork, UT (same layout). He had Cashew Chicken; said it was extremely delicious but I didn't try it (because he said he doesn't share). My Panang with chicken was the best I've had; silky, creamy, right blend of seasoning with a mini kick of spice (I've succumbed to the fact that I am not able to eat more than 2 star spicy… nor toasted sandwiches or Capt'n Crunch).
Molly Moon's Gourmet Ice Cream (down further on 45th in Wallingford) didn't have too bad of a wait (usually the line is at least 15 people out the door; there were 4ish) so I finally got to go. I tried the Salted Caramel and Honey Lavendar, was in heaven with the latter. It. Was. Scrumptious.
Cruised down to Freemont to unveil the legendary Freemont Troll. At night the thing is quite awesome, especially if you come UP the road to it instead of from the side. The grafitti has been covered with cement, finally.
Next was a swing by Golden Gardens Beach before dropping him off at his hwy 99 hotel (that was in the boondocks; next time he's checking with me on location). There was NO wind, it was dark with enough light by the full moon filtering through the night fog and a handful of groups were huddled around their fires, thankfully behaving.
{written from my iPhone in bed}
{ Comments on this entry are closed }