Nah. I didn't really spill my cocaine, but it sure looks like it! Naturally, I'm kinda klutzy. Thinking ahead, I decided to fashion some wax paper into a sort of funnel to easily pour the powdered sugar into this cute jar. The first couple pours did pretty well until a glob plopped out and crushed my funnel (like that pesky chunk of ice at the bottom of your cup when it comes loose and punches you in the face). Argh.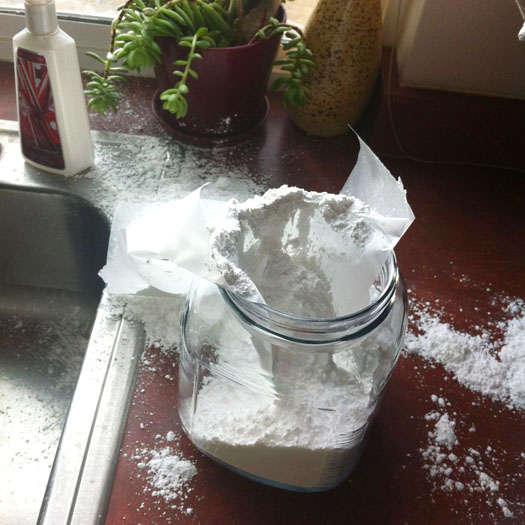 Since my bloggy is on the mend (from eating entire/partial posts before/after I've published them, oy), I'll drop small posts and see where we end up. There are big posts on the back burner, and the swimsuit issue (don't get excited, trust me), but for now let's keep it simple (stupid… I'm kidding, you're not stupid, it's the old K.I.S.S. addage I can't get out of my head; just like "Yes, we have no bananas.")
My kitchen pantry has been known for being the favorite spot in my house for visiting friend's (and I'm not only talking to you, LaYen). Just last Sunday someone at church asked me if she could bring the 12 year old girls from her Sunday School class to show them (word gets around because I don't think that gal has ever been in my house.) I try to keep it organized, though it's tough with three plus other people in/out of there every day.
After Christmas clearance sections are a great place to pick up containers (that may or may not be filled with seasonal treats) for a fraction of the price. These jars were at Sur La Table for only $3.50ish from $19ish. I used the innards to refill my vintage candy machine (which matches my red, white, & yellow kitchen) then repurposed the jars for raisins, craisins, corn meal, etc. Because I'm not sure what will stay in each container, I used a write-erase marker to label the outside and instructed my family that if they smudge it they die. Just kidding.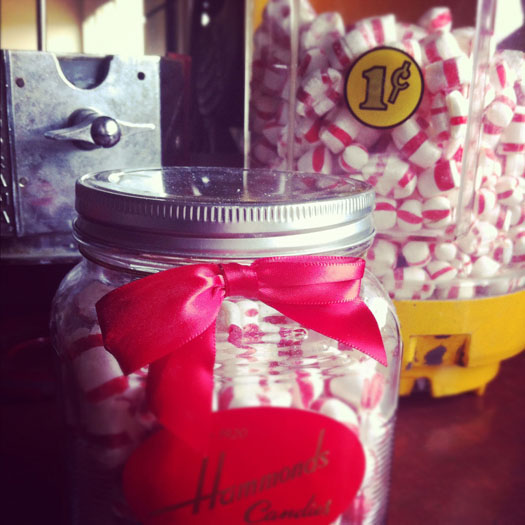 I wonder if that's what happened at Las Margaritas once when we ordered five Deep-fried Ice Cream desserts. Something was strange tasting, though we couldn't place what it was until about half way through. They didn't taste gross or rotten, just… weird. Dun dun dun… it was salt (which is NOT in the recipe)! The manager figured that whomever assembled them must have grabbed the salt bin instead of the sugar bin to roll the ice cream balls before coating with the crust. We DID finish eating them, even though they were weird, but at least we didn't have to pay for them ;)
{ Comments on this entry are closed }