This post is sponsored by Gymboree Children's Clothing. Bring a friend to a Gymboree store and sign up for Gymboree Rewards together and you'll both SAVE 25% off an in-store purchase.
Today's post IS sponsored by Gymboree, but the thing is is that I LOVELOVELOVE their clothes so it's almost as if this ISN'T a sponsored post and just me telling you about another great company/product that I'd recommend.
I have NO bad things to say about shopping here (and y'all know I am honest and would divulge to you anything I'm not happy about.) Really. I sat here and thought and thought if there's something negative to mention but there isn't. Service has always been great, helpful, and not annoying (you know those places where you're annoyed with the pushy or snotty sales people; not this place – and I've been to many across several states). Returns aren't a hassle like other stores, as long as you're following their policy (I don't remember the details, but haven't had trouble).
When my kidlets were in the sizes that Gymboree sells, they were mostly wearing Gymboree clothes. Even now that they're too big for their sizes, I still stroll through the store to ooh and aah over the cute clothes and shop for gifts.
We stopped into the Riverwoods store in Orem, UT last night…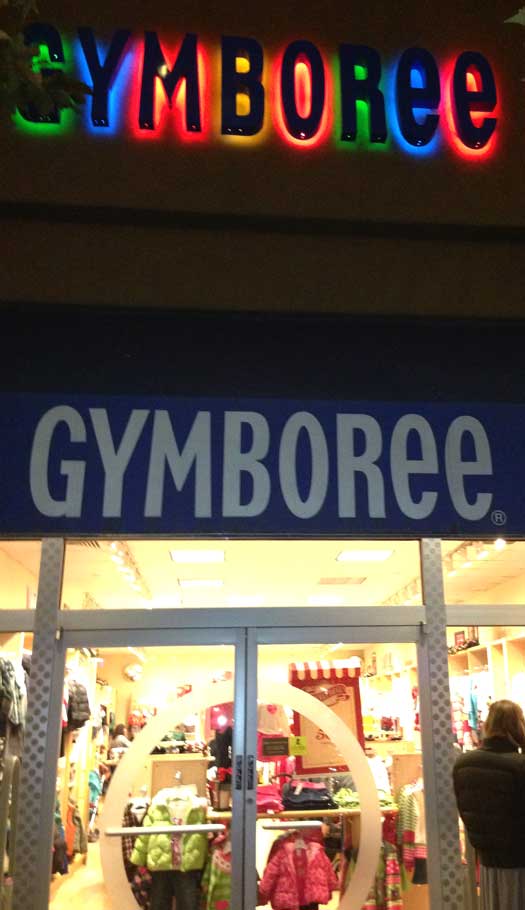 The pajama's are my FAVORITE EVER! They fit snuggly against little baby frames and kept them cozy in cuteness. Seriously, every baby ever put in Gymboree pajama's look AfreakingDORABLE! Their little booty's waddling around with their feet kept warm in gripped-so-they-don't-slip footies. Can you tell I love Gymboree's pajama's?!?
Their clothes are quality made. I've never had an issue with wear, seams, or design flaws because Gymboree only puts out well-made clothing and accessories. The tights last because they're thick (for the cold weather kind) or tightly woven (for the not-so-cold times) with strong seams and snug waist bands. They're clothes are great for hand-me-down's because they stay looking good a lot longer than any other children's clothing out there that I've tried or heard of.
I love how they coordinate their outfits so you can get more wear out of each item by mixing and matching. If I had a little girl to shop for, I'd get the following giraffe themed pieces (and what a coincidence that the giraffe is my favorite animal!)
Check out the close-up of the sequined giraffe shirt…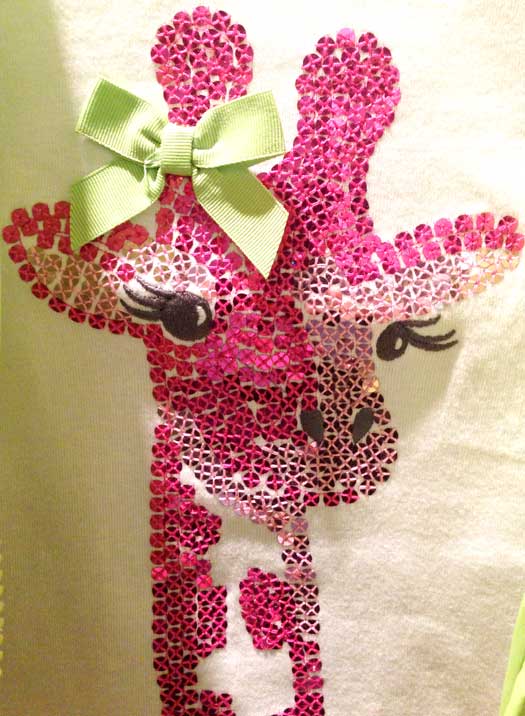 The clearance prices are always great. That's where I'd usually get the pajama's. And check out the FREE SHIPPING sign… they'll order it for you and ship it directly to you if you can't find the right size, color or style (some restrictions apply, subject to availability).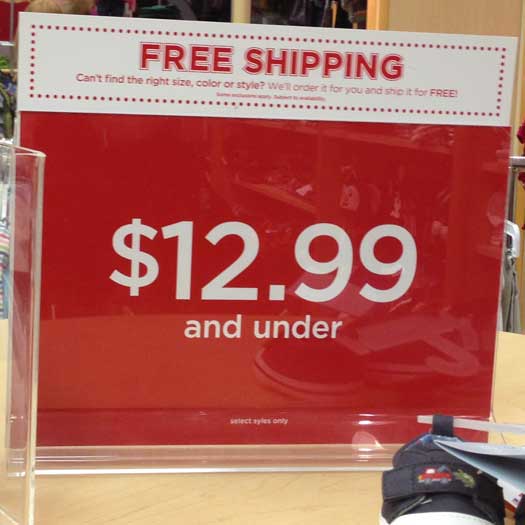 And don't think that they only have girl stuff. The boy section has plenty of handsome shirts, sweaters, vests and outer wear to mix-and-match that are sturdy, rugged and won't fall apart. Notice the sign in the next picture above the boys clothes that says 50% off!!! When we went there yesterday, there were several 50% off signs as well as a couple of clearance racks (which is a great place to look when shopping for a baby gift).
We aren't having anymore kids of our own, but we have at lease one niece being born next year that would look adorable in this faux fur number Ben is showing you…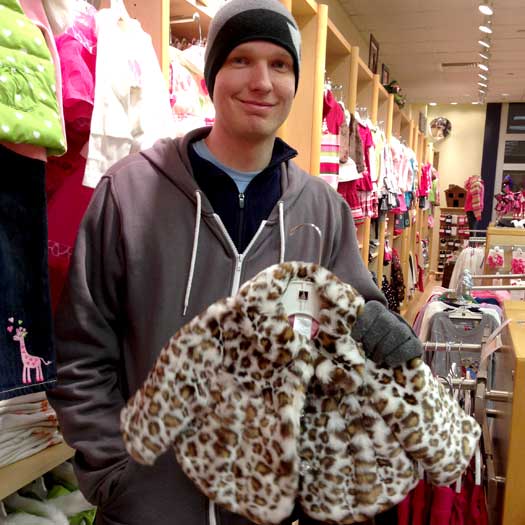 Don't forget to sign up for the Gymboree Rewards card. You'll get sale notifications, special deals, and reminders about the Gym Bucks redemption when you've earned FREE Gymboree credit to use in the store. Remember if you bring in a friend and BOTH sign up for Gymboree Rewards you'll BOTH get 25% off your in-store purchase(s)!
Let your friends and family know about Gymboree and their great deals. You'd be on Santa's AND your friends/families NICE list.