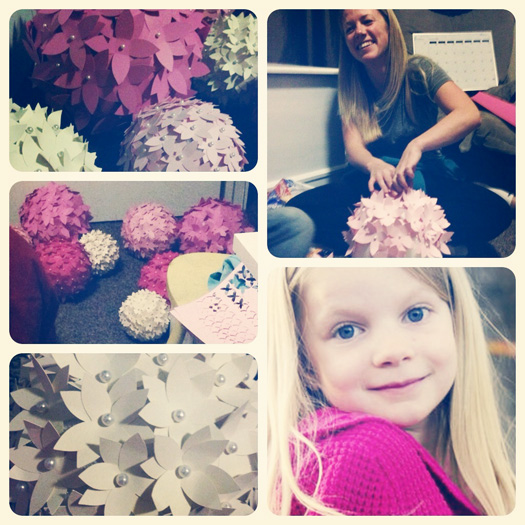 Can I tell you about the night I had?
It started out as an informal demonstration of how to use the new Cricut Mini cutting machine at the Provo Craft office with a few bloggers and Nathan, the PC social media manager.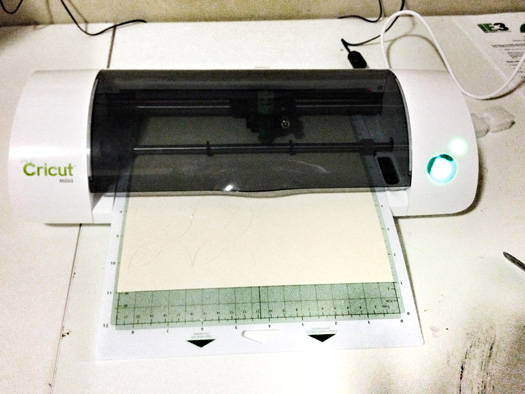 As we were being schooled on manipulating one of the thousands of designs (bigger, smaller, mirrored, weld, omit parts, etc.) we got word that help was needed to create decor for the upcoming funeral of little Emilie Parker, one of the victims of the tragic Sandy Hook Elementary shooting in Connecticut.
Nathan jumped into action providing us with several Cricut machines, matts, tools, and artwork so we could assemble as many decorative hanging balls before the building lights went out at 9:30 p.m.
If you want to get familiar with a new-to-you machine, busting out 5,000 cut flowers in a few hours will do that. We learned how to tell if a blade needs to be replaced (snags the material you're cutting), the tension needs adjusting (a little more if the paper slips), or the blade depth isn't deep enough (your cut pieces don't come easily apart from the material you're using).
After the lights went out, we cleaned up our paper mess (I wrote "I elephant Cricut" on the white board) and hauled the supplies over to Cobi's house to finish the assembly (and some more cutting – those poor blades and cutting matts are trashed after so many cuts in the same spot over and over). A few more ladies joined us there until almost 2 a.m. so we could finish.
One of the ladies is related to little Emilie. As we worked together, she shared little bit about the family (Emilie was the oldest of three kids; children process death differently than adults and each other), their faith in Jesus Christ (Emilie's grandfather, to whom she was very close, died recently from a freak accident; the belief that they are together in heaven is comforting to those still here), and how the chaos of that fateful day unfolded (waiting hours for confirmation of the whereabouts of their daughter).
I am grateful for the network of bloggers I am involved with and the amazing companies that show they care about their customers. Not only did Provo Craft bend over backwards to support the Parker family and those of us who wanted to help, but the kind manager at Hobby Lobby authorized a sweet discount for the supplies (pins, paper, styrofoam balls, ribbon).
We hear all the time about negative experiences with products/services and companies, so if you like the idea of supporting positive experiences with your voice or pocket book, consider dropping a tweet, email, Facebook comment, purchase, or compliment to Provo Craft, Cricut, and Hobby Lobby soon.
By the way, after purchasing and assembling the decorations, we estimate it cost about $20 each (retail) to recreate these pretty hanging flower orbs. If you have a lot of the supplies already, you could do them for much less.
Happy crafting!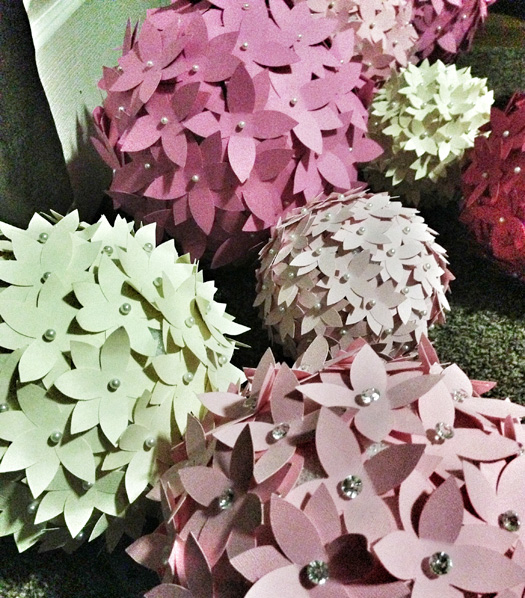 INSTRUCTIONS TO MAKE PAPER FLOWER ORBS
Orbs (like styrofoam or green flower foam balls)
Card stock in your preferred color
Cutting machine/punch (Cricut)
Pins (with a decorative head would be prettiest)
A lot of time
Ribbon
Long dowel, knitting needle, or something to push
ribbon through the orb so it can hang
(Optional: paint the orb the same color as the
card stock to avoid seeing foam between the flowers)
Cut 1-3″ flowers enough to cover orb twice
Stick pin through the middle of two flowers
With your fingers/thumb, rub the top flower
petal upwards to create a soft bend
Stick the pin all the way into the orb, flush
with the bottom petal
Continue #4 overlapping slightly with the
nearest flower so the orb isn't visible until
the entire orb is covered
Push your desired length of ribbon through
the middle of the orb out the bottom and
double knot the end so it stays in place
(like you would the end of a hoodie string
so it doesn't slip back up into the pocket)
Hang and admire